The Journey Psychic & Healing Fair – Pittsburgh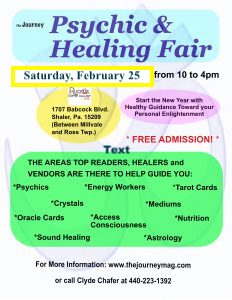 Saturday – February 25
Ruckus Coffee Gallery and Cafe
1707 Babcock Blvd. (Between Millvale and Ross Twp.)
Pittsburgh, PA 15209
The Journey Psychic & Healing Fair began in 1999 and has been serving people every other month without interruption. Our mission  is to help people find guidance and inspiration in their own personal path.
(PLEASE CALL 440-223-1392 FOR INFORMATION)
* FREE ADMISSION! *
Come get a reading to help you transition into

the

New Year!!
THE AREAS TOP READERS ARE THERE TO HELP GUIDE YOU
Astrology, Mediums, Tarot Cards, Palmistry, Spiritual Coaches, Animal Communicator, Past Lives, Psychics, Energy and Bodyworkers, Vendors!
Giann Marco Melucci
Astrologist – Dance and Movement Therapy Practitioner – Through the language of astrology, Giann Marco helps clients align with the strength of who they are. He offers guidance in clarifying the roadmap that an individual's natal chart holds, unlocking secrets of the past, grounding in the present, and setting course for an integrated and expansive future. To book a reading, contact him at 248-756-5632, and follow him on YouTube (Giann Marco Melucci).
Wyatt Melius
Wyatt works with clients to help make lifestyle changes and choose health-promoting ways that produce real and lasting results. You will develop a deeper understanding of lifestyle choices that work best for you, improving your energy, balance, health, and happiness. Each session will leave you feeling inspired and motivated. I will personally and carefully guide you to make simple, small changes that transform your life. Offering Chakra Energy Assessments and Chakra Energy Balancing Using Sound. wyatt@rootedinsound.com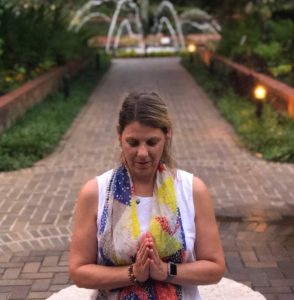 Kristi Coleman – Running Access Bars
The Access Bars include 32 points on the head that when gently touch can help facilitate change in all areas of your life. Brain waves slow down and become more spherical allowing for behavioral patterns & belief systems to change thus creating greater possibility in one's life to experience more joy and ease. Do you remember the last moment in your life when you were totally relaxed and nurtured and cared for? Or has it been a little too long since you received healing and kindness without any judgment of your body or your being? If you get a yes, why not, get your Bars run today!!! https://www.accessconsciousness.com/en/class-catalog/access-events/at-a-venue/Experience-Access-Bars_524/
 
Jasa Johnson
Shamanic Oracle Readings offers an expanded perception of what may be happening with you multi-dimensionally. These readings access cross-cultural, multi-symbolic, poly-sensorial, intuitive information that connects and aligns you with your heart, Spirit and deep innate knowing. Readings create enriched opportunities for inner-standing, clarification and appreciation of your ever unfolding soul path. https://jasathemystic.com/

Jenn Farley,
 the owner of Soul Path Energies, LLC, helps you navigate your soul's path through this life.  The strongest path on that guide is energy.  Therefore, the only way to make any meaningful changes or learn any meaningful insights is through working with energy.  Reiki, Psychic Mediumship, and Tarot are the tools she uses to help you along your path.

Keystone Cultures
The modern world is hostile to microbial life, particularly to the microbes in your gut. When your gut isn't diversely populated with these essential, tiny partners, everything from digestion & immune response, to mental clarity & emotional resilience function sub-optimally. We grow refreshing, living beverages so you have delicious & easy ways to support the microbial ecosystem of your gut!

Lorie Conrad
Lorie is an energy worker/reader who is here to spread her light. She takes care in holding a safe space for releasing lower vibrations. All the while, pulling in the loving energies of source, guides & angels to fill you back up with light. Every so often, a good energy tune up is just what you need to put that pep back in your step! Call or text 330-614-9189.

Metta
Metta is a gifted Intuitive Energy Healer, Medium, Channel, Intuitive Artist, Chakra/Aura Reader, Holistic Integrative Nutritionist (RD), and Intuitive Well-being Coach. She is a compassionate and heart-centered healer; She loves to help others uncover the beauty and wisdom inside.  She is a conduit for healing energy to flow through her.  She has the capacity to connect with spirit guides, angels, ascended masters, cosmic families, and ancestors.

Angela Miller
Angela, the Rose Heart Shaman is a spiritual adapt that works with clients to remove suffering and negativity to restore uplifting balance and inner beauty. Angela's unique bond with crystals and rose energy works together with spirit allies to extract and replenish the client. Once the divine rainbow ray flows through the body and connects with the heart, it opens into a beautiful rose.  Angela is also a Rose Oracle reader and a Spiritual Mentor to help clients connect with their higher self and purpose. 

Carol Collins – The Pittsburgh Medium
Carol Collins is a gifted channel for The Jeshua Collective. Her abilities spontaneously manifested in 2019. Readings with her offer depth of Edgar Cayce and trance channel style of Esther Hicks. Her channeling was featured in We Are Channelers, 25 magazines, named Women to Watch by LA Weekly and in 2023 will be featured in a documentary film on channeling alongside Kryon, Bashar, and Tobias.

Tracey VanDivner
Tracy has certifications in Reiki and Access Bars and has over 15 years of experience in working with spirit in practicing psychic/mediumship and divination.  It was only natural for her to go into holistic healing. At this event, Tracy will be offering reiki. Reiki is a profoundly simple system of healing that speeds up the bodies own healing process.  Some benefits of reiki include reducing stress, increasing relaxation, clearing toxins and promoting wellness and clarity.

Jennie Leonard-Dragonfly Dreams Channeling
Coming from a long line of light workers in her family, Jennie is gifted in being used as the vessel to tap into your higher conscience. She has the ability to connect with your spirit guides, arch angels and higher consciousness team to channel personal information that will assist you on your journey to reaching your highest and best self. Contact: leonards1996@verizon.net Please call 412-965-9235

Lisa LeRose – Awakening Your Highest Potential
Lisa reconnects and activates energetic, transformational pathways. Within you is the power to unlock your highest potential by creating a clear, calm, confident state. Utilizing the frequencies of energy, light and information she assists clients in opening universal potential pathways. Lisa is an energy practitioner, educator, who focuses on creating life-changing transformations for clients. Founder of One Wisdom, she hosts Connect2Love podcast on all major platforms.

Camille O'Malley
Camille is an Evidential Psychic Medium who brings forward your loved ones to provide evidence and give comfort that they are always with us even after death. Through Camille's readings, you will experience your loved ones personality, traits, memories, and their unconditional love to provide healing. Also, Camille can offer Psychic readings, along with tarot, if you are seeking information on current life situations, relationships, career, or blockages preventing you from living your life to its fullest potential. Contact for in person or zoom readings: http://www.readingsbycamille.com