The Priestess of the Light Oracles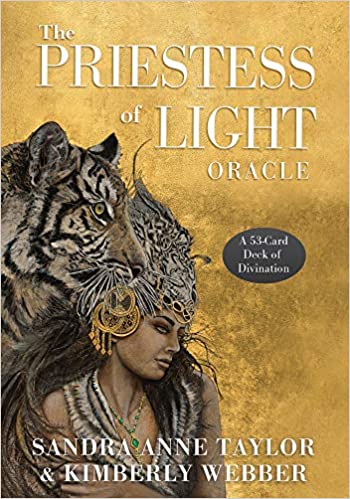 A 53-Card Deck of Divination Cards by Sandra Anne Taylor
Step into the light with The Priestess of Light Oracle Deck!
The Priestess of Light Oracle is designed to answer a variety of questions, using the wisdom of feminine archetypes, spirit animals, and sacred geometry. With each exquisite card, The Priestess of Light Oracle illuminates what is hidden, guides you towards a more fulfilling life, and helps you understand yourself and the world.
This oracle is a collaboration between two incredible healers and teachers. Renowned artist Kimberly Webber channels divine energy to create stunning depictions of spirit animals, divine feminine archetypes, and sacred geometry. The unique lighting effect comes from the rare minerals, crystals, and precious metals layered into her original oil paintings, described as "modern magical realism rooted in antiquity." Acclaimed oracle creator Sandra Anne Taylor connected with Spirit and the energy within the art to create this 53-card deck that can be used for predictive purposes as well as a tool for significant change in your inner realm, the outer experiences you attract, and the world at large.
Click Below to Order
https://www.amazon.com/Priestess-Light-Oracle-53-Card-Divination/dp/1401960367/ref=sr_1_1?dchild=1&keywords=priestess+of+the+light&qid=1613499372&sr=8-1